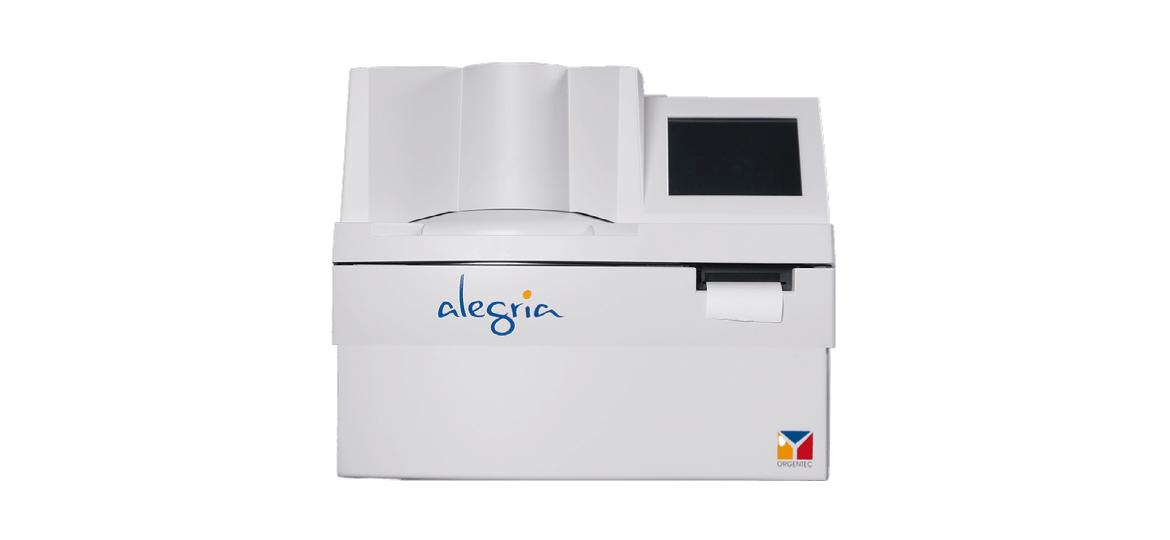 This is a random access ELISA analyzer, based on SMC® (Sensotronic Memorized Calibration) Technology.
It represents the newest dimension in the field of autoimmune diagnostics. The analyzer provides a fully automated process for the detection of autoantibodies with a degree of flexibility never before available.
The fully automated analytical system can run more than 100 tests; each test run may include up to 30 patients with individual results delivered in only 90 minutes.
Orgentec Alegria a random access ELISA analyzer, based on SMC® (Sensotronic Memorized Calibration) Technology.
Device Type
Random Access ELISA Analyzer
Application Area
Immunodiagnostics
Role of BIT
Co-Product Development, Manufacturing, After-Sales Services
This instrument is in used diagnostics laboratories for example for autoimmune diagnostics and infection disease serology. It is used especially by laboratories with average or lower sample frequency and for acute diagnostics.
Autoimmune diagnostics and infectious serology.
In 2015, after a partnership of ten years, BIT and ORGENTEC Diagnostika, a worldwide leading manufacturer within the diagnostic market for autoimmune diseases, celebrated the development and sale of their 1000th Alegria® instrument.
The Alegria® instrument has gained international recognition and has been awarded the Medical Design Excellence Award (MDEA) by UBM Canon.
The collaboration between ORGENTEC and BIT has resulted in substantial market success for this instrument.
Early involvement during the product development process to secure "design for manufacturing"
Design transfer incl. assembly of prototypes and pre-series devices
"Design-to-cost" focus with optimization of component and supplier choices
Complete handling of the supply chain organization including supplier and tool management
Product assembly
Obsolescence management for key components incl. life-time extension
Technical documentation and regulatory review, e.g. RoHS compliance
Ongoing versioning maintenance, software maintenance and enhancements for new applications
Spare parts manufacturing and supply
The Alegria is a compact instrument for autoimmune diagnostics and infection disease serology.
Working together in these specialized immunodiagnostics fields ORGENTEC and BIT have created a successful market entry with several years of production and product enhancements as required by the market.
Are you working on a new diagnostic device? Let's discuss how to help you develop it faster, accelerate the regulatory process and increase your margin.
Stefan Koerth
Director
Sales
Schwalbach, Germany

Véronique Le Goff
Director
Business Development
Montpellier, France