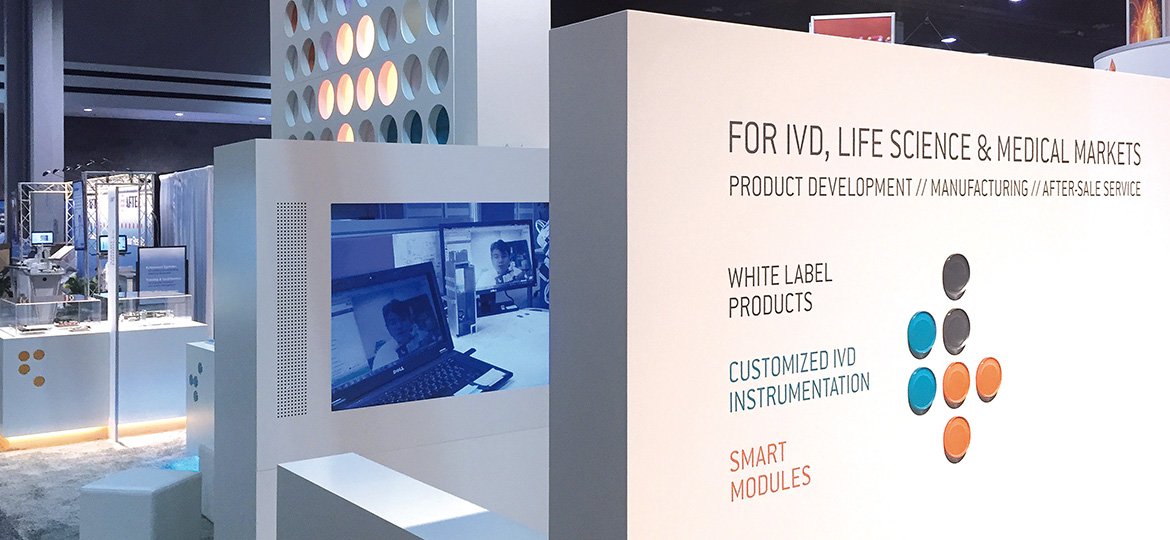 BIT Group to Showcase Customizable IVD White Label Technology at AACC Annual Meeting
BIT Group will exhibit (in Booth #2445) at the American Association of Clinical Chemistry (AACC) Annual Meeting in Atlanta, GA (USA) July 26-30, 2015. With assistance from its global team representatives from the U.S., China, Japan, Germany and France, BIT is featuring White Label Products, Customized IVD Instrumentation and SMART Modules.
July 24, 2015: Atlanta, Georgia – Attendees of this year's American Association of Clinical Chemistry (AACC) Annual Meeting can meet with members of BIT's global team to learn more about the company's latest IVD diagnostic solutions. This year, BIT's focus will be on "White Label" Instrument Solutions, Customization of IVD Instruments and "SMART Modules."
BIT's 2015 exhibit features an eyecatching monolithic "microplate" light installation in the center. The illumination of microplate shine onto the three major segments of the exhibit: White Label, Customized Instruments and SMART Modules. Each of these newly branded BIT capabilities are color coded within the exhibit to help guide visitors to their area of interest. In the "White Label" area, Hematology, Clinical Chemistry and Homeostasis systems will be on display to illustrate the integration of customizable consumables and reagents within an instrument to form a unique, fully-functional, ready-to-use IVD solution. The "Customized Instruments" section will display platform parts along with a fully-developed customized system. Finally, "SMART Modules" will be showcased in two Technology Clusters: Fluidic & Software Cluster and an Electronics Cluster. As a whole, the exhibit will reflect BIT's vast experience and advanced competencies in the development and manufacture of IVD instruments and systems.
The annual meeting of the AACC is the largest clinical lab exposition in the world. This year's gathering of experts from the field of laboratory medicine will feature 770+ exhibitors occupying more than 2,000 booths.
Anyone requiring a personal appointment with BIT during the expo may register on BIT's website.
BIT Group provides contract product development, manufacturing and after-sales services, as well as white-label instruments, for life science, medical and IVD instrumentation OEMs. Quality standards include GMP, FDA registered, ISO13485 & 9001, QSR, Class I, II, and III. BIT Group's global operations in USA, Germany, France, China & Japan deliver precision engineered, cost effective systems solutions. Pre-engineered BIT SMARTSOLUTIONS™ platform technologies reduce development cost and time-to-market; lean manufacturing centers and global supply chain enable competitive product cost.
Contact:
Executive VP, Jari Palander
Phone: +1 (949) 238 1277
J.Palander@BIT-Group.com
www.BIT-Group.com